Marian C. Bergeson
Republican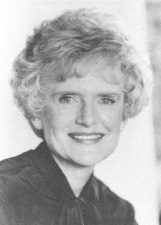 UCI Social Science Journal
Candidate Biography:
Born: August 31, 1925 in Salt Lake City, Utah
Married: Garth S. Bergeson (m. 1950)
Children: Nancy Bergeson*, Garth Jr., Julie McCormick and James**
Died: July 6, 2016 in Newport Beach, CA
1964-1965: Member, Newport City School District Board
1965-1977: Member, Newport-Mesa Unified School District Board
1972-1978: President, California School Boards Association
1976: Primary Candidate for AD-76 (Lost; 15.7%)
1995: Resigned from the State Senate on January 2.
1995-1996: Member, Orange County Board of Supervisors
1996-1999: California Secretary of Education
1998: Woman of the Year (70th Assembly District) [selected by Marilyn Brewer]
1999-2006: Member, Orangewood Children's Foundation Board of Directors
1999-2001: Member, California State Board of Education
2004-2008: Member, California Transportation Commission
2012: Proponent, Proposition 32 [Political Contributions by Payroll Deduction] (Failed; 43.9%)
LEGISLATION: Author of SB 1100 (1991) which bans the free distribution of tobacco products on public property. [Chapter 829/Stats of 1991]
LEGISLATION: Author of SB 838 (1991) which creates the Orange County Transportation Authority. [Chapter 983/Stats of 1990]
Bergeson is one of three individuals to be refused confirmation by the Legislature following appointment by a Governor to fill a vacant statewide office. Her appointment as Superintendent of Public Instruction (following the removal from office of Bill Honig) was rejected by the Assembly and never taken up by the Senate although she had strong support there and was expected to pass easily in the upper house.
Nancy Bergeson was an Assistant Federal Public Defender in Oregon (1991-2009). She was found murdered in her home in Portland on November 24, 2009.
James Bergeson won a silver medal as part of the United States Men's Water Polo Team at the 1988 Summer Olympics in South Korea.
The Orange County School Boards Association created the Marian Bergeson Award in 1974 to recognize those trustees who best exemplify the spirit of boardsmanship.
PLACENAME: The Marian Bergeson Elementary School is located in Laguna Niguel, and the Marian Bergeson Aquatic Center is located in Newport Beach.
Source: California Legislature Handbook (1983, (1994)
"Marian Bergeson, pioneering Orange County politician, dies at 90" by Alex Chan, Los Angeles Times (7/6/2016)