Tim Leslie
Republican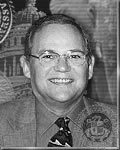 CA State Assembly
Candidate Biography:
Robert Timothy Leslie
Born: February 4, 1942 in Ashland, Oregon
Married: Clydene
Children: Debbie and Scott
1965-1969: Principal Analyst, Sacramento County Executive Office
1969-1971: Consultant, Assembly Ways and Means Committee
1971-1980: Lobbyist, County Supervisor's Association of California
1985-1988: Member, State Advisory Board on Drug Programs (appointed by Governor Deukmejian)
1991: Resigned from the State Assembly on May 16.
2008-2009: Member, Tahoe Regional Planning Agency Governing Board
2010: Early Primary Candidate for Lieutenant Governor (Withdrew)
Counting only "term limits era" service (since the start of the 1991-92 Session), Leslie has the most legislative service of any legislator, serving 9.5 years in the Senate and 6.5 years in the Assembly.
Leslie lost the 1984 Assembly race by 1,379 votes.
LEGISLATION: Author of AB 1757 (2002) which designated Bodie as the official state Gold Rush "Ghost Town."
NOTABLE NO VOTE (Expanded Local Pension Benefits): Leslie was one of 7 State Assemblymembers (and 14 legislators overall) who voted against AB 616 (2001) by Tom Calderon, which allowed California cities, counties and special districts to offer retirement benefit factors up to 3% at age 60. These higher benefit factors led to severe unfunded pension liabilities in a number of cities a decade later.
Source: California Blue Book (2000)
Source: California Legislature Handbook (1987)