John B. Cooke
Democratic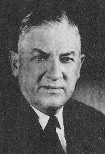 CA Blue Book (1950)
Candidate Biography:
John Bleecker Cooke
Born: May 17, 1885 in Fort Smith, Arkansas
Married: Nagel, and Anne Klassen Joslin
Child: John B. Cook, Jr.
Military Service: USN (WWI, Mexican Expedition, WWII)
Died: June 17, 1971 in San Francisco, CA
1906: Rescue and Relief work, San Francisco Earthquake and Fire
1941-1946: Head, Guam Executive Department (Military Government)
Although he had retired from active duty in 1933 due to a physical disability incurred in the line of duty, he was recalled to active duty to serve as Commander of Section Base, Bishop's Point, Oahu on June 13, 1941.

Cook was absent from California during the first days of the 1st Ex. Session of 1941 because he was serving in the military in Oahu just days after the Pearl Harbor attack. In a note published in the Assembly Journal, Garland requested "Request unanimous consent to be absent special session...Am representing House on Oahu front. Sprirt and morale all hands very high and acting in accordance with highest traditions of America... Could use all of you - particularly a chaplain, a bugler, an Ex-Marine and a certain yeoman. A big cheer and God bless all of you." Assemblyman Rodney L. Turner moved that Cooke be excused from the rest of the special session and the motion was approved.
Source: California Blue Book (1950), (1954)
Source: Social Security Death Index (website).