Jonathan J. Hollibaugh
Republican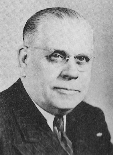 CA Blue Book (19??)
Candidate Biography:
Born: July 13, 1891 in Knowlton, Iowa
Married: Mary Ann Shields (in 1920)
Military Service: (WWI)
Died (in office): June 11, 1953 in Sacramento, CA
1936-1944: Member, Huntington Park City Council
END OF SESSION: According to a L.A. Times article, Hollibaugh died one day after the end of the 1953 Regular Session. While packing his car in front of the Senator Hotel, Hollibaugh collapsed while trying to close the car's trunk. He was rushed to a nearby hospital where he was pronounced dead.
Source: California Blue Book (1946), (1954)
Source: "Hollibaugh dies at State Capitol", Los Angeles Times (6/12/1953), p. 2