G. Delbert Morris
Republican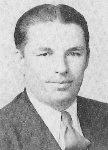 CA Blue Book
Candidate Biography:
Born: June 23, 1909 in Nogales, Arizona
Married: Mary Jean Weltner (m. 1948, d. 1953)
Children: Valerie Ann and Mary Susan Allene
Military Service: USN (WWII)
Died: November 4, 1987 in Redondo Beach, CA
1956: Morris resigned from the State Assembly on February 29.
1968: Primary Candidate for AD-56 (Lost)
According to his 1950 biography, Morris was "at Peal Harbor when Japs attacked; aboard USS Lexington when sunk; in aircraft crash at sea; and wounded in the invasion of Tarawa."
LEGAL TROUBLES: Morris is the only member of the legislature to resign from office

while in prison

. Morris had been convicted of selling of state liquor licenses (Charles W. Lyon was also convicted) and spent two years in prison. Lyon also spent two years in prison, but his term had ended by the time he was sent to prison.
PARDON ME: He was pardoned by Governor Edmund G. "Pat" Brown in December 1961.
His State Prisoner number was A33095.
Source: California Blue Book (1950, 1954)
Source: Social Security Death Index (website).
Source: "Primary Ballot Studded With Comeback Efforts" by Richard Bergholz, Los Angeles Times (4/28/1968)