Charles W. Lyon
Republican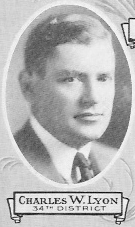 CA Blue Book
Candidate Biography:
Born: September 13, 1887 in Los Angeles, CA
Married: Nancy P. Janney (in 1912)
Children: Nancy J. Locke, Charles W. Jr, and Frank Gilbert
Died: July 20, 1960
1914: City Attorney, City of Venice
1939: Minority Leader, California State Assembly
1943-1946: Speaker, California State Assembly
LEGAL TROUBLES: Lyon was convicted in October 1954 of selling of state liquor licenses (with G. Delbert Morris) and spent two years in prison. Lyon refused to resign from the Assembly and collected $1,500 in salary for the three months between his conviction and the end of his final term.
PARDON ME: Lyon was paroled in November 1956 and pardoned by Governor Goodwin Knight in 1958.
In 1938, Lyon (as a cross-filing candidate) defeated Robert A. Heinlein for the Democratic nomination for AD-59. As the only winning candidate in Primary, Lyon was unopposed in the General Election. Heinlein went on to become a prolific science fiction author, writing 32 novels, 59 short stories and 16 collections (including Starship Troopers in 1959).
Source: California Blue Book (1928), (1946), (1954)
Source: Political Graveyard (website).
Source: "1905 Decisions Could Bear in Robbins' Case: by David Lawsky (UPI), Los Angeles Times (3/22/1981)