Gordon Cologne
Republican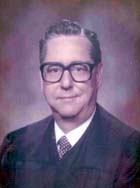 courtinfo.ca.gov
Candidate Biography:
Gordon Bennett Cologne
Born: August 24, 1924 in Long Beach, CA
Married: Patricia Ruth Regan (m. 1957), Patricia J. Radice (d.)
Children: Steven John and Ann Maureen
Military Service: USN (WWII)
University: University of Southern California (B.S., 1948)
Died: January 4, 2019 in Encinitas, CA
1951-1952: Trial Attorney, U.S. Department of Justice, Antitrust Division
1954-1956: Mayor, City of Indio
1957: Member, Indio City Council
1957-1958: Member, Riverside County Board of Freeholders
1972: Resigned from the State Senate on March 2.
1972-1984: Justice, Division One of the Court of Appeal, Fourth Appellate District
1985-1986: California Water Commission
1986-1989: Special Counsel, California Medical Association
LEGISATION: Author of the Porter-Cologne Water Quality Control Act of 1970 (increased the authority of the State Water Resources Control Board).
When drafted for military service in 1943, Cologne weighed 105 pounds.
Source: California Blue Book (1961), (1967)