John Stull
Republican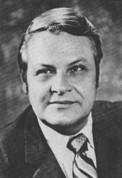 CA Blue Book
Candidate Biography:
John Oliver Stull
Born: August 30, 1920 in Corwith, Iowa
Married: Babbie Bogue (m. 1944)
Child: Sinara Stull O'Donnell
Military Service: USN (WWII, Korea)
Died: June 8, 2011 in Hartville, Missouri
1971-1973: Minority Caucus Chair, California State Assembly
1973: Resigned from the State Assembly on March 12.
LEGISLATION: Author of AB 293 (1971), the "Stull Act", which was written to "establish a uniform system of evaluation and assessment of the performance of certificated personnel within each school district of the State."
John and Babbie were married for 59 years.
Source: California Blue Book (1971)
Source: "Understanding The Stull Act" by the California Teachers Association [accessed 11/28/2011]