Richard D. Hayden
Republican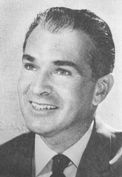 CA Blue Book (1975)
Candidate Biography:
Born: May 7, 1928 in Niles, Michigan
Married: Lelia M. "Lea" Hayden
Children: Greg and Julie
Military Service: ARMY (WWII)
Died: August 4, 2017 in Sunnyvale, CA
19??: Member, Sunnyvale City Council
1968-1969: Mayor, City of Sunnyvale
While in the State Assembly, helped gain funding for creation of Mission College in Santa Clara. Mr. Hayden was a Political Science professor at Mission College until his death.
Source: California Blue Book (1971), (1975)