Dick Mountjoy
Republican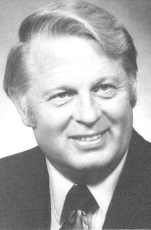 mountjoyforsenate.com
Candidate Biography:
Richard L. Mountjoy
Born: January 13, 1932 in Los Angeles, CA
Married: Earline Winett (m. 1952, died 2009)
Children: Michael, Dennis, and Judy
Military Service: USN (Korea)
1968-1976: Mayor, City of Monrovia
1982-1984: Assembly Republican Caucus Chair
1994: Proponent, Proposition 187 [To deny benefits to illegal immigrants] (Passed; 58.8%)
1995: Removed from Office in the State Assembly on January 23.
1998: Primary Candidate for Lieutenant Governor (Lost; 26%)
2003: Filed a Statement of Intention to run for Governor in the Recall (withdrew)
2009: Proponent, Recall of Assemblyman Anthony Adams
2009: Prospective Candidate for the Recall of Assemblyman Anthony Adams (Recall did not qualify)
On the ballot twice: Because of the concurrent victories in the SD-29 Special Election and AD-59 General Election, Mountjoy was actually elected to both houses of the legislature for the 1995-96 Session. This allowed Assembly Speaker Willie Brown to expell Mountjoy from the Assembly in January 1995 and (with the resulting vacancy) hold onto the Speakership for several more months.
Source: California Assembly Handbook (1996)
Source: California Blue Book (2000)
Source: Journal of the Assembly Journal, 1995-96 Regular Session, Volume I (1996) pp. 127-131