Ted W. Lieu
Democratic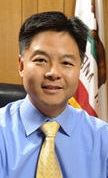 Facebook
Candidate Biography:
Born: March 29, 1969 in Taipei, Taiwan [Republic of China]
Married: Betty (former Deputy Attorney General)
Child: Brennan and Austin
Military Service: USAF
Previous: Member, Torrance Environmental Quality & Energy Conservation Commission
2002: Member, Torrance City Council
2004: Presidential Elector
2010: Primary Candidate for Attorney General (Lost; 10.5%)
2016: Delegate, Democratic National Convention
LEGISLATION: Author of SB 256 (2013), which would create a state program for the inspection of trampoline courts. The bill would also require annual inspection by a qualified trampoline safety inspector. This bill died in the Assembly Appropriations Committee.
Source: California Legislature Handbook (2005-06)