John Conness
Republican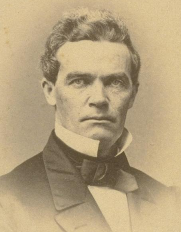 Library of Congress
Candidate Biography:
Born: September 22, 1821 in Abbey, County Galway, Ireland
Died: January 10, 1909 in Jamaica Plain, Massachusetts
Legislative Altercation: On May 19, 1853, Assemblyman Elcan Heydenfeldt drew a pistol on Assemblyman Conness. Even with that disadvantage, Conness "came first best out of the fight."
Legislative Altercation: In 1861, "Thomas Laspeyre was called by the Hon. John Conness, on the floor of the house, a dirty dog, and he flung an inkstand at his head. No challenge followed. Mr. Laspeyre, however, later accepted the position of 2nd in the Showalter duel."
QUOTABLE: Shortly after the attack on Fort Sumter started the U.S. Civil War, Assemblyman Conness offered an amendment to resolution that noted "that the United States forts and arsenals recently taken at Charleston and elsewhere have undoubtedly been taken by black republicans in disguise." The amendment failed 22 to 37.
PLACENAME: Mount Conness in the Sierra Nevada range is located in Mono / Tuolumne counties and is named for the Senator. [Source:

1000 California Place Names

by Erwin G. Gudde]
Conness served as a pallbearer at the funeral of President Abraham Lincoln.
Source: The San Francisco Irish, 1848-1880 by R. A. Burchell. University of California Press (1980)
Source: "Biographical Directory of the United States Congress, 1774-Present" (U.S. Library of Congress) [http://bioguide.congress.gov/]
Source: Last Night of the Session of the Assembly by an Eye-Witness (Sacramento; James Anthony & Co., 1854)
Source: History of Political Conventions in California, 1849-1892 by Winfield J. Davis (1893)