Isaac Jones
Republican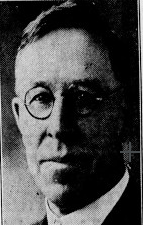 San Bernardino Sun
Candidate Biography:
Born: December 6, 1868 in Stamford, Connecticut
Married: Laura Day
Died: March 14, 1937 in Ontario, CA
1912-1910s: City Attorney, City of Ontario
1916-1920: Member, Ontario City Council
1925: Candidate for Assembly Speaker (Lost; 39 to 40)
1927: Candidate for Assembly Speaker (Lost; 11 to 57)
1936: Delegate, Republican National Convention
PLACENAME: The Isaac Jones Reservoir was a 10-million gallon water storage facility built in 1957 at 8th Street and Fern Avenue in Ontario. Today, it is apparently known as the Fern Reservoir.
OBITUARY: "We know of no man in public life in whom the people had greater faith than Isaac Jones" (San Bernardino Sun)
The super-specific article in the San Bernardino Sun notes that Jones died at 4:15 am at his home at 724 East E Street, in Ontario.
Source: California Blue Book (1928), (1932)
Source: "Isaac Jones Was Friend of People" San Bernardino Sun, Volume 43, 16 March 1937, p. 20
Source: "Isaac Jones, Prominent Republican Leader, Dies" San Bernardino Sun, Volume 43, 15 March 1937 (p.1)