Fred N. Howser
Republican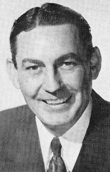 CA Blue Book
Candidate Biography:
Frederick Napoleon Howser
Born: April 11, 1905 in David City, Nebraska
Married: Helen Sten
Child: Fred Allen Howser
Died: April 25, 1987 in Laguna Hills, CA
Previous: Assistant Prosecutor, City of Long Beach (6 years)
1943: Resigned from the State Assembly on February 2.
1943: (Appointed) District Attorney of Los Angeles County
1954: Primary Candidate for Attorney General (Lost)
As LA District Attorney, Howser was the prosecutor in the Sleepy Lagoon murder trial (the 1942 murder of Jose Diaz by twelve members of the 38th Street Gang) which led to the Zoot Suit Riots of 1943 (in which Howser also played a major role).
Maillard noted in a 1971 interview that "[W]e knew, of course, that Howser was a crook, and Earl [Warren], particularly, knew because of those gambling ships in Los Angeles when Howser was district attorney. One of the main reasons for the creation of the Commission on Organized Crime was to watch Howser."
Although their names are similar, Howser was not related to either Lieutenant Governor Frederick F. Houser (who served at the same time as Howser) or his father, Assemblyman and Supreme Court Justice Frederick W. Houser.
Source: California Blue Book (1950)