Norma J. Torres
Democratic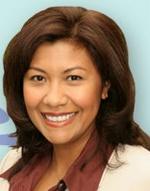 normatorres.com
Candidate Biography:
Norma Judith Torres
Born: April 4, 1965 in Escuintla, Guatemala
Married: Louis
Children: Robert, Christopher, and Matthew
2000-2006: Member, Pomona City Council
2006-2008: Mayor, City of Pomona
2008: Woman of the Year (32nd Senate District) [selected by Gloria Negrete-McLeod]
2008: Presidential Elector
2012: Early Primary Candidate for CD-35 (Withdrew)
2013: Resigned from the State Assembly on May 20.
2016: Delegate, Democratic National Convention
Torres is one of nine legislators who served in both houses of the California State Legislature since 1990 but never termed out of either.
Robert Torres was a 2020 Presidential Elector for Joe Biden/Kamala Harris.
Source: California Legislature Handbook (2009-10)