Melissa Melendez
Republican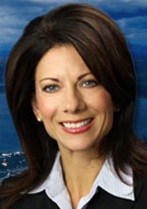 melendezforassembly.com
Candidate Biography:
Melissa Ann Melendez
Born: February 17, 1969 in Youngstown, Ohio
Married: Nico Melendez
Children: Angelo, Paolo, Sofia, Rocco, and Carlo
Military Service: USN (Persian Gulf War)
2008-2012: Member, Lake Elsinore City Council
QUOTABLE: "Lawmakers, don't change your bill to get it through committee then tell people you're going to remove [the] changes afterwards. It's not a sound strateg." [Melendez on Twitter, April 11, 2016] (This quote was translated from Twitter abbreviated to standard English)
Biography Note: "Melissa then became one of the first women approved by the U.S. Navy to fly aboard EP-3 reconnaissance aircraft overseas, conducting intelligence-gathering operations in partnership with our allies."
Nico Melendez is the Pacific Region Public Affairs Manager for the U.S. Department of Homeland Security.
Melendez has declined to follow @alexcvassar on Twitter.
Source: Biography on campaign website [melendezforassembly.com] (accessed 6/8/2012)
Source: California Assembly Handbook (2015)