Joseph B. Montoya
Democratic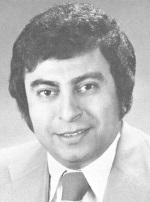 Assembly Latino Caucus
Candidate Biography:
Born: April 30, 1939 in Rocky Ford, Colorado
Married: Pilar Gonzalez, Rita Stephenson
Children: Christina, Pilar, Joseph III, and Marisa
Military Service: USAF
Died: June 21, 2022 in Sacramento, CA
1968-1972: Member, La Puente City Council
Previous: Mayor, City of La Puente
1973: Co-Founder, California Chicano Legislative Caucus
1990: Resigned from the State Senate on February 9.
RESIGNATION: On February 5, 1990, the Senate Rules Committee stripped Montoya of his committee memberships and chairmanship and gave him a deadline of February 8th to resign from the Senate.
LEGAL TROUBLES: In 1990, Montoya was convicted on of seven charges; extortion (5), racketeering (1) and money laundering (1) in connection with the federal Shrimpscam investigation. The investigation also led to convictions for Board of Equalization member Paul B. Carpenter, and Assemblymen Pat Nolan and Frank Hill.
His Federal Bureau of Prisons Register number was 04500-097 and he was released on 10-06-1995.
Source: California Blue Book (1975)
Source: California Assembly Handbook (1979)