William G. Bonelli
Republican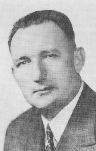 CA Blue Book
Candidate Biography:
Born: November 9, 1895 in Kingman, Arizona
Married: Mary Bernadine Parish (in 1921)
Children: Three sons
University: University of Southern California (BA; 1916)
Military Service: ARMY (WWI)
Died: November 21, 1970 in (Hermosillo, Sonora?) Mexico
1927-1929: President, Los Angeles City Council
1929: Candidate for Mayor of Los Angeles (Lost)
1932: Recall Candidate for Mayor of Los Angeles (Lost)
1935-1938: Director, California Department of Professional and Vocational Standards
1950: President, National Association of Tax Administrators
Legal Troubles: Bonelli fled to Mexico to avoid charges that he had awarded liquor licences in exchange for bribes. Bonelli remained in Mexico until his death.
PLACENAME: The Bonelli Ranch Stadium operated as a quarter-mile racetrack from 1939 until 1954, when it was renamed the Saugus Speedway. The Saugus Speedway closed in 1995.
Source: California Blue Book (1932), (1946)
Source: "Saugus Speedway" article at Wikipedia (accessed 3/27/2011)