Alex P. Garcia
Democratic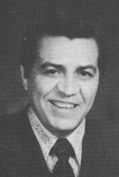 CA Blue Book (1975)
Candidate Biography:
Born: June 22, 1929 in El Paso, Texas
Married: Blanche Alvarez
Children: Alex Jr., Daniel and Thomas (twins), Cecilia, and Catherine
Military Service: ARMY
Died: April 10, 1999 in Los Angeles, CA
1982: Primary Candidate for SD-24 (Lost; 46.2%)
On January 15, 1977, Robert Mark Lewis, a Special Assistant to Garcia, was assassinated by members of the Mexican Mafia. He was shot to death in a car in the Echo Park area of LA. In April 1984, Anthony Delia Jr. admitted in court that he was involved in the murder of Lewis.
Source: California Blue Book (1971)
Source: California Assembly Handbook (1979)