Julian Beck
Democratic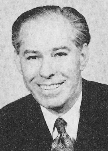 CA Blue Book
Candidate Biography:
Born: May 13, 1905 in Philadelphia, Pennsylvania
Married: Maude Marie Carlisle (in 1935)
Children: Julie Anne and Judith Lynne
Died: August 18, 1992
1949-1952: Minority Caucus Chair, California State Assembly
1953: Resigned from the State Assembly on September 25.
1953-1958: Judge, Los Angeles Municipal Court
1958-1959: Governor's Legislative Secretary
LEGISLATION: Beck was the principal proponent of Proposition 6 (1946) which provided for the Legislature to meet annually and changed the state budget from covering a two-year period to a one-year period.
Source: California Blue Book (1946), (1954)
Source: Social Security Death Index (website).