Walter W. Stiern
Democratic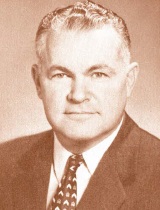 CA Blue Book
Candidate Biography:
Born: March 8, 1914 in San Diego, CA
Married: Alysjune "June" Dunning (in 1938)
Children: Christina and Janet
Military Service: ARMY (WWII), USAF
Died: February 21, 1988 in Bakersfield, CA
WAR STORIES: During his service in World War II, Stiern was given a unique task; "airlift 1,554 mules over the lofty Himalayas via non-pressurized cargo plane" from India to China, "Stiern, a veterinary officer with the elite Merrill's Marauders...directed his soldiers to put oxygen masks on the mules' feed bags." None died. (San Bernardino Sun)
LEGISLATIVE HISTORY: In 1986, Senator Stiern recalled that his legislative colleague Charles Brown (first elected in 1938) had offered him the following advice shortly after he was sworn into office in 1959; "Now, Walter, I want you to realize what your most important duty is -- to protect the people of California from the Assembly" (San Bernardino Sun)
PLACENAME: The Walter W. Stiern Library is located at CSU Bakersfield.
PLACENAME: Walter Stiern Elementary School (Home of the Sharks!) is located in Bakersfield.
Source: California Blue Book (1961), (1967), (1975)
Source: California Legislature Handbook (1983)
Source: "High Desert constituents like Sen. Stiern's style" San Bernardino Sun. 22 October 1986. Page B3.