Alister McAlister
Democratic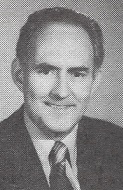 CA Blue Book (1975)
Candidate Biography:
Alister Davidson McAlister
Born: November 10, 1929 in Highland, Illinois
Married: Evelyn Young (in 1952)
Children: Diane, Alister II, Gwenevere, Malcom, and Courtney
Military Service: ARMY
Died: November 8, 2010 in Wilton, CA
Previous: Law Professor
1986: Primary Candidate for Controller (Lost; 12.2%)
LEGISLATION: Author of more than 400 laws during his 16 years in the Assembly.
LEGISLATION: Author, AB 200 (1985), which provided that a property owner would not be held liable to criminals for any injury sustained in connection with specified felonies (most notably burglaries).

In his 1986 campaign for Controller, several of his campaign ads referred to himself as "Honest McHonest".
Source: California Blue Book (1971), (1975)
Source: California Assembly Handbook (1979)