Daniel Boatwright
Democratic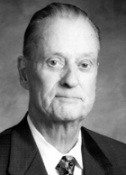 CalAccess
Candidate Biography:
Daniel Eugene Boatwright
Born: January 29, 1930 in Harrison, Arkansas
Married: Gina Hilbert (div.), Teresa (m. 1994)
Children: Dan, David, and Donald
Military Service: ARMY (Korea)
Died: April 27, 2012 in Clayton, CA
1960-1963: Deputy District Attorney, Contra Costa County
Previous: City Attorney, City of Brentwood
Previous: Chair, Contra Costa County Consolidated Fire District
1966-1972: Member, Concord City Council
200?-2010: Lobbyist, Sacramento Advocates, Inc.
LEGISLATION: Boatwright was an author of the Johnston-Baker-Andal-Boatwright Delta Protection Act of 1992.
LEGISLATIVE HISTORY: Boatwright was the only legislator to ever sit as chair of every fiscal committee in both houses of the Legislature.
PLACENAME: The portion of Highway 680 between the Carquinez bridge and the Highway 24 interchange in Walnut Creek as the Senator Daniel E. Boatwright Highway [SCR 4 (DeSaulnier) in 2008].
PLACENAME: The Daniel E. Boatwright Youth Sports Complex is located in Concord, CA.
Source: California Blue Book (1975)
Source: California Legislature Handbook (1973)