Norm Mineta
Democratic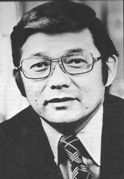 CA Blue Book 1975
Candidate Biography:
Norman Yoshio Mineta
Born: November 12, 1931 in San Jose, CA
Married: May Hinoki
Married: Danealia Darlene "Deni" Mineta
Children: David, Stuart, Robert, and Mark
Died: May 3, 2022 in Edgewater, MD
1962-1964: Member, San Jose Human Relations Commission
1966-1967: Member, San Jose Housing Authority
1967-1971: City Councilmember, City of San Jose
1971-1974: Mayor, City of San Jose
1995: Resigned from the United States House of Representatives on October 10.
2000-2001: U.S. Secretary of Commerce
2001-2006: U.S. Secretary of Transportation
AWARD: Presidential Medal of Freedom (2006)
PLACENAME: The Mineta Transportation Institute at San Jose State University was established in 1991
PLACENAME: San Jose International Airport was renamed San Jose Mineta Airport to honor the Congressman.
PLACENAME: ACR 25 (Lieber, 2008) designated State Highway 85 (except the segment between Prospect Road
and Quito Road) as the Norman Y. Mineta Highway.
At five and a half years, Mineta was the longest serving US Transportation Secretary.
Mineta and his family were sent to the Japanese internment camp at Heart Mountain [Wyoming] during World War II.