James Carson Needham
Republican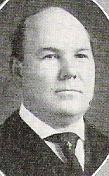 CA Blue Book
Candidate Biography:
Born: September 17, 1864 (in a covered wagon) at Carson City, Nevada Territory [now Nevada]
Married: Mary A. Dinniene
Family: Brother-in-law of John H. Dinniene
Died (in office): July 11, 1942 in Modesto, CA
1887-1888: Clerk, The Adjutant General's Office of the War Department
1890: Candidate for SD-?? (Lost)
1919-1935: Justice, Fresno? County Superior Court
PLACENAME: There is a Needham Street in Modesto that appears to be named for this Needham. Additionally, there is a Mount Needham in Tulare County named for the Congressman.
Needham was born less than a month before Nevada became a state.
Source: "Biographical Directory of the United States Congress, 1774-Present" (U.S. Library of Congress) [http://bioguide.congress.gov/]
[Source: 1000 California Place Names by Erwin G. Gudde]