Marc Levine
Democratic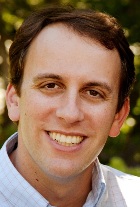 levineforassembly.com
Candidate Biography:
Marc B. Levine
Born: April 26, 1974 in Los Angeles, CA
Married: Wendy
Children: Wyatt and Meredith
Previous: Chair, California State Student Association
2010-2012: Member, San Rafael City Council
2022: Primary Candidate for Insurance Commissioner (Lost)
LEGISLATION: Author of AB 1494 (2016) which would permit voters to take "ballot selfies" with their marked ballots. (Chapter 813, Statutes of 2016)
LEGISLATION: Author of AB 2539 (2016) which would require modeling agencies to be licensed by the Labor Commissioner ($225/year) and would require models to receive three medical check-ups per year, obtain a nutrition consultation with a qualified health professional, and acquire an annual certificate from a doctor that documents that they are in a "healthy physical condition." (Died; Assembly Appropriations)
CLOSE CONTEST: By June 15th, more than a week after the 2022 Primary Election, Levine trailed the second-place candidate (Republican candidate Robert Howell) by 25,401 votes. By June 17th, Levine trailed 1472 votes. On June 24th, Levine led Howell by 480 votes. On June 28th, Levine fell to third place with Howell leading by 960 votes. On June 30th, Howell led Levine by around 5000 votes (0.1%). Levine conceded the contest on July 6th.
Source: California Assembly Handbook (2015)