Joe A. Gonsalves
Democratic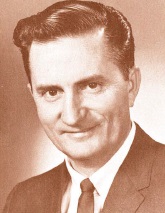 City of Cerritos
Candidate Biography:
Born: October 13, 1919 in Holtville, CA
Married: Virginia Mello (in 1940)
Children: Robert, James, Joe, Jack, Frank, Anthony, David, Tim, and John Kennedy
Died: July 7, 2000 in Sacramento, CA
1961-1962: Mayor, City of Dairy Valley (now Cerritos)
LEGISLATION: Author, Gonsalves Milk Pooling Act (AB 910, 1967), which established statewide milk pricing standards.
PLACENAME: The interchange of highways I-105/I-605 has been named the "Joe A. Gonsalves Memorial Interchange", and there is a Joe A. Gonsalves Elementary School and Joe A. Gonsalves Park in Cerritos.
Be Fruitful and Multiply: Gonsalves had nine children.
Source: California Blue Book (1963), (1971)
Source: California Legislature Handbook (1973)