Houston I. Flournoy
Republican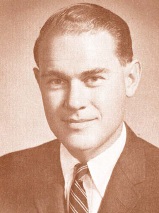 CA Blue Book (2000)
Candidate Biography:
Houston Irvine Flournoy
Born: October 7, 1929 in New York, New York
Married: Marjorie Westerkamp (in 1954)
Children: Jean Korinke, David Flournoy and Ann Day
Military Service: USAF (Korea)
Died: January 7, 2008 in California
Previous: Researcher, New Jersey State Legislature
Previous: Assistant, US Senator H. Alexander Smith [New Jersey]
1975-1993: Professor of Public Administration, University of Southern California
1993-1999: Governmental Affairs Advisor, University of Southern California
Flournoy was the youngest member of the Assembly in 1960 at age 30.
The State Senate adjourned in memory of Flournoy on February 14, 2008. Senator Tom McClintock's remarks included the following; "Hugh Flournoy truly was a remarkable and rare public servant who never lusted for political positions except as a means to a higher end. Though he was disdainful of politics in general and political office in particular, he cared very deeply about this state and its people."
Source: California Blue Book (1954), (1958), (1961), (1963), (1967)