Hiram Johnson
Republican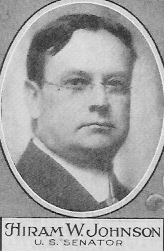 CA Blue Book 1942
Candidate Biography:
Hiram Warren Johnson
Born: September 2, 1866 in Sacramento, CA
Married: Minnie L. McNeal
Children: Hiram Warren Johnson Jr. and Archibald McNeal Johnson
Family: Son of Grove L. Johnson
Died (in office): August 6, 1945 in Bethesda, Maryland
1899-1902: Corporation Counsel, City of Sacramento
Previous: Assistant District Attorney, San Francisco
1912: Founder, Progressive Party
1912: Progressive Party Nominee for Vice President (with Theodore Roosevelt)
1917: Resigned as Governor on March 15.
1920: Primary Candidate for President (Lost)
Epitaph: "Simple, Direct, and Certain"
QUOTEABLE: "The first casualty, when war comes, is truth."
PLACENAME: One elementary school, and one high school (Hiram Johnson High School in Sacramento) are named for the Governor.
PLACENAME: The East-West street that runs through Capitol Park in Sacramento was designated the "Governor Hiram W. Johnson Memorial Parkway" by SCR 55 (Keene, 1986).
Johnson was a 2009 Inductee to the California Hall of Fame.
Source: California Blue Book (1911), (1913-15), (1924), (1946)
Source: "Biographical Directory of the United States Congress, 1774-Present" (U.S. Library of Congress) [http://bioguide.congress.gov/]