Arthur H. Breed Jr.
Republican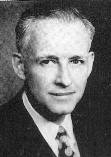 CA Blue Book
Candidate Biography:
Born: July 23, 1903 in Santa Cruz County, CA
Married: Margaret Gross
Children: George and Martha
Family: Son of Arthur H. Breed, Sr.
Died: April 18, 1989
1948: Alternate Delegate, Republican National Convention
PLACENAME: Interstate 580 between Castro Valley and Livermore is named the "Arthur H. Breed Jr. Freeway". This section was named in 1983. - Source: cahighways.org
Source: Social Security Death Index (website).