Frank M. Jordan
Republican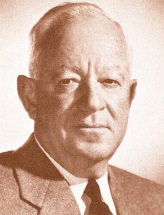 CA Blue Book (1946)
| Date | Party | Office | Votes | Result |
| --- | --- | --- | --- | --- |
| 11-03-1942 | Republican | Secretary of State | 1018732 | Win |
| 11-05-1946 | Republican | Secretary of State | 2166594 | Win |
| 11-07-1950 | Republican | Secretary of State | 3041791 | Win |
| 11-02-1954 | Republican | Secretary of State | 2169494 | Win |
| 11-04-1958 | Republican | Secretary of State | 2517595 | Win |
| 11-06-1962 | Republican | Secretary of State | 3210438 | Win |
| 11-08-1966 | Republican | Secretary of State | 3481016 | Win |
Candidate Biography:
Born: August 6, 1888 in Alameda, CA
Married: Alice Crossan (m. 194?, d. 19??) , Alberta Sturzman (in 1955)
Children: Mary Jane Law
Family: Son of Frank C. Jordan, Nephew of William H. Jordan and Henry Vrooman
Military Service: ARMY (WWI)
Died (in office): March 29, 1970 in Sacramento, CA
1911-1917: Staff, Automobile Club of Southern California
1948-1949: President, National Association of Secretaries of State
1964: Delegate, Republican National Convention
NOTABLE: It was Frank M. Jordan who suggested that blue and gold be made the official colors of the State of California.
TENURE: Fourth longest service in a single office (27 years). His father, Frank C. Jordan, served for 30 years.
"First man in the history of California to be elected to succeed his father in a constitutional State office" - Source: California Blue Book (1946)
Alberta Jordan (wife of Frank M.) filed papers to run for Secretary of State in 1970.
Source: California Blue Book (1946), (1963), (1967)
Source: "Pillars of Public Service" by the NASS (accessed 8/26/2012)