Bill Greene
Democratic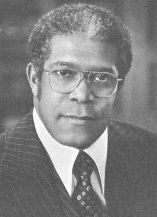 assembly.ca.gov
Candidate Biography:
Born: November 15, 1931 in Kansas City, Missouri
Married: Yvonne LaFargue (in 1962)
Children: Alisa Rochelle and Jan Andrea
Military Service: USAF
Died: December 2, 2002 in Sacramento, CA
Previous: Clerk of the Assembly, California State Assembly
Previous: Legislative Assistant, Assemblyman Mervyn M. Dymally
1975: Resigned from the State Assembly on April 7.
In 1989, Greene was the target of three attempted recalls, all led by Esther M. Lofton. The recalls failed to qualify for the ballot.
Source: California Blue Book (1967)
Source: California Legislature Handbook (1973)