Leo T. McCarthy
Democratic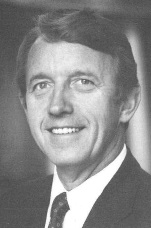 CA Blue Book (2000)
Candidate Biography:
Born: August 15, 1930, in Auckland, New Zealand
Married: Jacqueline Burke
Children: Sharon, Conna, Adam, and Niall
Military Service: USAF
Died: February 5, 2007 in San Francisco, CA
1959-1963: Legislative Aide, State Senator Gene McAteer
1963-1968: Member, San Francisco County Board of Supervisors
1974-1980: Speaker, California State Assembly
1981-1982: Speaker pro Tem, California State Assembly
1992: Primary Candidate for US Senate (Lost)
LEGISLATION: Author (with Pauline L. Davis and Leon D. Ralph) of AB 23 (Ch. 1246, 1975), the Legislative Open Records Act, which requires the Legislature to make available to the public most legislative documents.
In 1986, McCarthy was the target of an attempted recall by Michael Bogatirev, Timothy Grady. The recalls failed to qualify for the ballot.
PLACENAME: The Leo T. McCarthy Center for Public Service and the Common Good is located at the University of San Francisco.
Source: California Blue Book (1971)