Pauline L. Davis
Democratic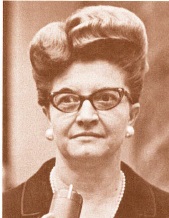 CA Blue Book
Candidate Biography:
Born: January 3, 1917 in Verdigre, Nebraska
Married: Lester Davis
Children: John Rodney Davis, Marlene Kaye Bryan, and Karen Joyce Mier
Died: December 14, 1995 in Sacramento, CA
1947-1953: Secretary, Assemblyman Lester T. Davis
LEGISLATION: Author (with Leo T. McCarthy and Leon D. Ralph) of AB 23 (Ch. 1246, 1975), the Legislative Open Records Act, which requires the Legislature to make available to the public most legislative documents.
After the 1963 shooting of CHP officer Glenn Carlson, Davis led the effort to provide CHP officers with shotguns. By the mid-1960s, shotguns had become standard in CHP vehicles, which they remain to this day.
LEGISLATION: Author (with Richard J. Dolwig) of Davis-Dolwig Act of 1961, "which requires consideration of fish and wildlife enhancement and recreational opportunities when planning State Water Project facilities."
First elected to replace her huband after his death, by 1975 Davis had "served longer than any other woman in California's history."
Davis was described as California's "First Lady of Water" in a 2014 article by Tina Cannon Leahy.
SHE STOOD ALONE: Davis was one of three legislators who have served as the sole member of their gender in the Legislature at that time. Eleanor Miller was the only woman in the Legislature in 1929-30, 1933-1936 and 1941-42. Kathryn Niehouse was the only woman in the Legislature in 1943-1952. Pauline L. Davis was the only woman in the Legislature in 1961-1966. Additionally, Rose Ann Vuich the sole woman in the State Senate in 1977-78.
Source: California Blue Book (1954)