Richard J. Dolwig
Republican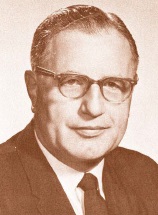 CA Blue Book
Candidate Biography:
Born: April 29, 1908 in Dickinson, North Dakota
Married: Elizabeth Brisbois
Children: Richard J. Jr, and Tamar Elaine
Military Service: ARMY (WWII)
Died: November 26, 1992 in Sacramento, CA
1962: Primary Candidate for Secretary of State (Lost)
On February 21, 1956, State Senator Harry L. Parkman announced that he would not seek reelection. Later that day, Assemblyman Dolwig announced that he would run, causing Parkman to ask that the "announcement of my withdrawal be withdrawn." In mid-March, the San Mateo County Republican Central Committee endorsed Dolwig for the Senate seat and Parkman withdrew from the race again on March 23rd.
Source: California Blue Book (1950), (1954), (1958), (1963)
Source: Social Security Death Index (website).