Ernest R. Geddes
Republican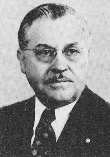 CA Blue Book
Candidate Biography:
Born: May 7, 1893 in San Antonio, Texas
Married: Madge Wire (in 1922)
Children: Barbara Ellen, Margaret Louise, and Allice Virginia
Died: April 9, 1983
FATHER OF THE CODE: Geddes authored AB 1935 (1953), which established the California Unemployment Insurance Code.
"Elected by write-in at General Election in 1944. Succeeded Lee T. Bashore, who had won both party nominations at the Primary, but who died September 14, 1944." Source: California Blue Book (1975)
Source: California Blue Book (1946), (1954)
Source: Social Security Death Index (website).