Jerome Waldie
Democratic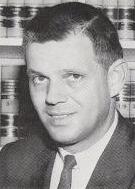 CA Blue Book
Candidate Biography:
Jerome Russell Waldie
Born: February 15, 1925 in Antioch, CA
Married: Joanne (married 1948)
Children: Jeff, Jonathon, and Jill
Military Service: ARMY (WWII)
Died: April 3, 2009 in Placerville, CA
1959-1966: Majority Leader, California State Assembly
1966: Resigned from the State Assembly on June 16.
1974: Primary Candidate for Governor (Lost)
1978-1979: Chairman, Federal Mine Safety and Health Review Commission
1980: Executive Director, White House Conference on Aging
1981-1985: Member, California Agricultural Relations Board
1986: Chair, National Senior Citizens Legal Services Corporation
1992-2008: Member, Tahoe Regional Planning Agency Governing Board
Jon Waldie served as the Chief Administrative Officer for the Assembly Rules Committee between 1997-2014.
In a good narrative of his life (at the Tahoe Regional Planning Agency website), Waldie humorously described his service in World War II and in Congress:
World War II
"I am 80 years old. Served in WW2 without any distinction whatsoever. Never got overseas, never, obviously, saw combat, even though I served 2 and a half years. I tell my grandchildren that due to their grandfather's presence on the shores of the United States, not a single enemy force was able to set foot on our soil with the possible exception of a spy or two released from a German sub in New Jersey."
Political Career
"In 1974, after a highlight in my congressional career, that is, serving of the House Judiciary Comm that voted to impeach R. Nixon, I decided my talent was so obvious that I should become Gov of Calif. I ran in 1974 for that office and found that a huge majority of Californians did not share my own convictions as to my merit. I lost to Jerry Brown in the Dem primary and there were others in that race that garnered more votes than did I."
Source: California Blue Book (1961), (1975)
Source: "Biographical Directory of the United States Congress, 1774-Present" (U.S. Library of Congress) [http://bioguide.congress.gov/]