Ron Dellums
Democratic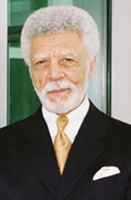 mayorrondellums.org
Candidate Biography:
Ronald Vernie Dellums
Born: November 24, 1935 in Oakland, CA.
Married: Leola "Roscoe" Higgs (m. 1961, div. 1998), Cynthia (m. 2000)*
Children: Erik, Piper, Brandy, Pam and Michael
Military Service: USMC
Died: July 30, 2018 in Washington, DC.
Previous: Psychiatric Social Worker, California Department of Mental Hygiene
1967-1968: Director, Concentrated Employment Program, San Francisco Economic Opportunity Council
1967-1970: Member, Berkeley City Council
1972: Delegate, Democratic National Convention
1998: Resigned from the United States House of Representatives on February 6.
2006-2011: Mayor, City of Oakland
In 1971, Dellums was one of 20 people named on President Richard M. Nixon's first "Enemies List"
Cynthia Dellums was previously the Director for the East Bay Conversion and Reinvestment Commission and is now a member of the Commission on the Status of Women (2008-Present).
PLACENAME: The Ronald V. Dellums Institute for Sustainable Policy Studies was established at Merritt College in Oakland in 1999. The Ronald V. Dellums Federal Building was dedicated in Oakland in 2000. The Ronald V. Dellums Building at the Chabot Science Center and Observatory in Oakland was dedicated in 2000.