Harold J. Powers
Republican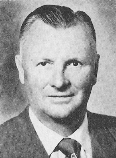 CA Blue Book (2000)
Candidate Biography:
Born: October 8, 1900 in Eagleville, CA
Married: Marie Street (in 1925)*
Children: Franklin J. and Jane
Family: Son of F. J. Powers
Military Service: ARMY (WWI)
Died: October 1996
1925-1932: Minute Clerk, California State Senate
1947-1953: President pro Tempore, California State Senate
1948: Delegate, Republican National Convention
1952: Delegate, Republican National Convention
1953: Resigned from the State Senate on October 5.
An article about their wedding noted that their "wedding is the culmination of a youthful romance, began during the couple' school days in Modoc County."
OUCH: Powers was seriously injured on May 14, 1949 "when his car struck a boulder on a road east of [Alturas] and overturned... he suffered chest and shoulder injuries, broken ribs and a punctured lung." ("State Legislator Injured in Crash" by UPI, Los Angeles Times, 5/15/1949)
Source: California Blue Book (1932), (1938), (1954)
Source: Source: "POWERS/STREET--MARRIED IN SAN FRANCISCO", Surpise Valley Record (Cedarville, Modoc County), (3/3/1925). Transcribed by Billie Reynolds.