Anthony Caminetti
Democratic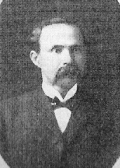 CA Secretary of State
Candidate Biography:
Born: July 30, 1854 in Jackson, CA
Married: Ella Martin
Children: Farley Drew and John B.
Died: November 17, 1923 in Jackson, CA
1877-1882: District Attorney, Amador County
1880: Alternate Elector, Winfield S. Hancock for President
1887: Commissioner, Marshall Monument
1896: Delegate, Democratic National Convention
1897: Candidate for Assembly Speaker (Lost; 31 to 43)
1897-1899: Member, California State Code Commission
1911: Minority Leader, California State Senate
1911: Author, Proposition 2 (Establishing county 'home rule' rights vs. California)
1913-1921: U.S. Commissioner of Immigration
QUOTABLE: (Regarding a bill to require bars to be closed between 1 AM and 5 AM: "Don't you think, Senator Finn, that the people of San Francisco can drink enough whisky in the remaining twenty hours to keep up her record for lasciviousness?"
LEGISLATION: Author of SB 816 (1907) which would "declare the holding of a caucus unlawful; provide for the calling and assembling of a free caucus by a member of certain legisaltive bodies in the State of California", and declare violations of these provisions a misdemeanor.
Source: California Blue Book (1909), (1911)
Source: "Biographical Directory of the United States Congress, 1774-Present" (U.S. Library of Congress) [http://bioguide.congress.gov/]
Source: Story of the California Legislature of 1911 by Franklin Hichborn (1911; San Francisco; James H. Barry Co.)
Anthony Caminetti Jr. was California's appointed Insurance Commissioner (1939-1943) .