Jack Schrade
Republican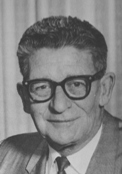 CA Blue Book (1971)
Candidate Biography:
Born: May 25, 1902 in Williamsport, Pennsylvania
Married: Margaret Lee Simonsen
Died: April 14, 1992 in Yolo County, CA
Previous: Vice President and Director, Helix Irrigation District (12 years)
1970-1971: President pro Tempore, California State Senate*
Senator Schrade was the last Republican to be elected President Pro Tem of the State Senate. He was also the last to not be voted in unanimously. Senator Mills was first elected on a 40-0 vote, Roberti on 1 38-0 vote, Lockyer on a 39-0 vote, Burton on a 32-0 vote, Perata on a 38-0 vote, and Steinberg on a unanimous voice vote.
In 1967, Senator Schrade helped start a contest to design a seal for the California State Senate. The design that was selected had been designed by Linda Taylor, a student at Sacramento State College.
Schrade was the author of SR 137 (1970), whiched establish May 15th as Peace Officers' Memorial Day.

PLACENAME: The Jack Schrade Bridge is where Highway 805 crosses over Interstate 8.
Source: California Blue Book (1958), (1961)