Clark L. Bradley
Republican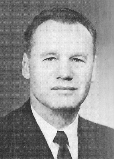 CA Blue Book (19??)
Candidate Biography:
Clark Lynn Bradley
Born: July 18, 1908 in Topeka, Kansas
Married: Carol M. Brubaker (in 1933)
Children: Lyn T., Cherill M., Maureen C. (Jones), and Roger C.
Military Service: USN (WWII)
Died: December 1983 in San Jose, CA
1944-1952: Member, San Jose City Council
1950-1952: Mayor, City of San Jose
1952: Primary Candidate for CD-09 (Lost)
Supreme Court Decision: In January 1984, the U.S. Supreme Court ruled that a law authored by Clark L. Bradley, SB 647 (1970), violated the Federal Arbitration Act. The law, which related to arbitration and alternative dispute resolution of contractual disagreements, was found to violate the Federal Arbitration Act. (Southland Corp. v. Keating, 465 U.S. 1)
Source: California Blue Book (1954), (1958)
Source: Social Security Death Index (website).