James J. McBride
Democratic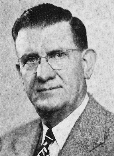 CA Blue Book
Candidate Biography:
Born: August 7, 1888 in Ireland
Married: Marguerite M. Hearne (m. 1919, d. 1943), Elsie
Children: Catherine Keene and Marguerite C.
Died (in office): June 12, 1961 in Sacramento, CA
Previous: Member, Ventura Board of Education
Previous: Member, Ventura Recreation Commission
PLACENAME: The bridge along Highway 101 over the Ventura River in Ventura county is named the "Senator James J. McBride Memorial Bridge". - Source: cahighways.org
LEGISLATION: Author of the legislation that created the Camarillo State Hospital.
Senator McBride was the first legislator to tour the Annex to the State Capitol in 1951.
Source: California Blue Book (1938), (1954), (1961)