Jim Costa
Democratic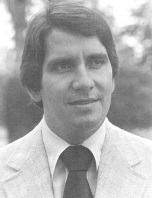 CA Blue Book (2000)
Candidate Biography:
Born: April 13, 1952 in Fresno, CA
1975-1976: Special Assistant, Congressman John Krebs
1976-1978: Administrative Assistant, Assemblymember Richard H. Lehman
1977: Intern, Congressman B.F. Sisk
1990-1992: Majority Caucus Chair, California State Assembly
2000-2001: President, National Conference of State Legislatures (NCSL)
2008: Delegate, Democratic National Convention
2016: Delegate, Democratic National Convention
PLACENAME: The segment of SR 180 between Route 99 and Chestnut Avenue is named the "Senator Jim Costa Highway". Named on August 23, 2002. (ACR 102 of 2002)
Costa was the youngest member of the Assembly in 1978 at age 26.
CLOSE CONTEST: Costa narrowly won the 2014 General election when he defeated Johnny Tacherra by 1.334 votes (1.4%).
KNIGHTHOOD: Commander of the Order of Merit (Portugal) in 1996.
Source: California Blue Book (2000)
Source: California Assembly Handbook (1981)
Source: Presidents of the NCSL by the NCSL (Accessed 8/26/2012)