Bernard R. Brady
Democratic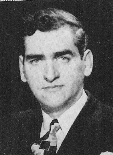 CA Blue Book (1954)
Candidate Biography:
Born: March 7, 1912 in San Francisco, CA
Married: Margaret Fegan Brady (Aide to San Francisco Mayor George R. Moscone)
Child: Bernard Finn Brady, Mary Anne Brady, Peter Brady, Catherine Brady, Owen Brady, Paul Brady, Carmel Brady and Margaret Burwell
Died: July 4, 1986 in San Francisco, CA
1968: Primary Candidate for AD-19 (Lost)
QUOTABLE: In 1954 Brady noted that "Money is needed by any government in limitless quantities because we can all enjoy greater comforts which could be provided. But the real problem is whether the tax load is equitable and the monies spent wisely."
Be Fruitful and Multiply: Brady had eight children.
Source: California Blue Book (1946), (1950)
Source: "Obituary: Bernard Brady", San Francisco Chronicle (7/6/1986)
Source: "Primary Ballot Studded With Comeback Efforts" by Richard Bergholz, Los Angeles Times (4/28/1968)