Pete Stark
Democratic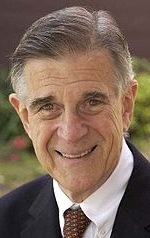 CA Blue Book
Candidate Biography:
Fortney H. "Pete" Stark
Born: November 11, 1931 in Milwaukee, Wisconsin
Married: Deborah Roderick Stark
Children: Beatrice, Thekla, Sarah, Hannah, Jeffrey, Andrew, and Fortney III
Military Service: USAF
Died: January 24, 2020
1972: Alternate Delegate, Democratic National Convention
2008: Delegate, Democratic National Convention
An incumbent who lost to a member of their own party (in 2012).
In 2007, Stark became the first Member of Congress to announce that he does not believe in God. [source]
TENURE: Stark was the longest serving Member of Congress in California history.
Be Fruitful and Multiply: Stark has seven children.