Pete Stark
Democratic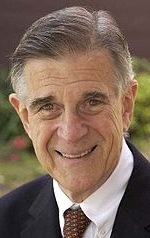 CA Blue Book
Candidate Biography:
Fortney H. "Pete" Stark
Born: November 11, 1931 in Milwaukee, Wisconsin
Married: Deborah Roderick Stark
Children: Beatrice, Thekla, Sarah, Hannah, Jeffrey, Andrew, and Fortney III
Military Service: USAF
Died: January 24, 2020
1972: Alternate Delegate, Democratic National Convention
2008: Delegate, Democratic National Convention
An incumbent who lost to a member of their own party (in 2012).
In 2007, Stark became the first Member of Congress to announce that he does not believe in God. [source]
TENURE: At the time of his retirement, Stark was the longest serving Member of Congress in California history (at 40 years in office). Two years later, Henry Waxman and George Miller retired after having reached the 40 year mark. Of the three, Stark was the only one to hold the record the longest (he reached 40 years two years before the other two), Waxman had the longest overall political career (having also served six years in the State Assembly) and Miller received the most votes during his campaigns for Congress (a total of 2,751,224) compared to 2.66 million for Waxman and 2.28 million votes for Stark.
Be Fruitful and Multiply: Stark has seven children.