Jerry Lewis
Republican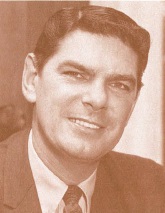 CA Blue Book (1975)
Candidate Biography:
Charles Jeremy Lewis
Born: October 21, 1934 in Seattle, Washington
Married: Sally, Arlene Willis
Children: Jerry Jr, Jennifer, Jeffrey, and Daniel
Died: July 15, 2021 in Redlands, CA
1957: Fellow, CORO Fellows Program
1964-1968: Member, San Bernardino City Unified School District Board
1966: Staff, Congressman Jerry Pettis
2012: Early Primary Candidate for CD-31 (Withdrew)
In 1988, John Lewis (brother of Jerry) was a primary candidate for AD-61. He lost, receiving 24.4%.
PLACENAME: The Jerry Lewis High Desert Government Center (which houses government offices for the County of San Bernardino) is located in Hesperia, CA.
Source: California Blue Book (1971), (1975)