Earl D. Desmond
Democratic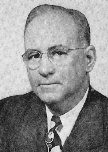 CA Blue Book (1932)
Candidate Biography:
Earl Daniel Desmond
Born: August 26, 1895 in Sacramento, CA
Married: Edna Nicolaus
Children: Richard F., Louis N., Michael J., Mary Sweigert Mastalski, Denise Franzoia and Clare Lagomarsino
Military Service: ARMY (WWI)
Died (in office): May 28, 1958 in Sacramento, CA
Previous: Secretary, Sacramento County Board of Supervisors
1941: Speaker pro Tem, California State Assembly
LEGISLATION: Desmond authored the bill which created Sacramento State College as part of the CSU system.
PLACENAME: Desmond Hall at Sacramento State is named for Senator Desmond.
Be Fruitful and Multiply: Desmond had six children.
Family: Desmond's grandson Richard F. Desmond Jr. served as Assembly Chief Sergeant-at-Arms in 2018-2019 and as a Sacramento County Supervisor (2021-Present).
Source: California Blue Book (1938), (1946), (1958)