Clair W. Burgener
Republican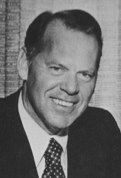 CA Blue Book
Candidate Biography:
Sinclair Walter Burgener
Born: December 5, 1921 in Vernal, Utah
Married: Marvia Hobusch (in 1941)
Children: Rod, Greg, John
Military Service: ARMY (WWII)
Died: September 9, 2006 in Encinitas, CA
1953-1957: Member, San Diego City Council
1955-1956: Vice Mayor, City of San Diego
1959-1961: President, California Association for Retarded Children
1961-1962: Vice President, National Association for Retarded Children
1970-1973: Vice Chairman, Presidents Committee on Mental Retardation
1973: Resigned from the State Senate on January 3.
1983-1993: President, California State Personnel Board
1988–1997: Member, Regents of the University of California
1985-1987: Chairman, California Republican Party
NOTABLE HISTORY: Burgener was probably the only Republican Party Chairman to ever be endorsed in his bid for Congress by nearly every Democrat (including Jerry Brown, Lt. Governor Mervyn M. Dymally, and Treasurer Jesse M. Unruh). In 1980, his Democratic opponent was Tom Metzger, a former KKK leader, who was strongly opposed by the Democratic establishment after he won the primary.
NOTABLE HISTORY: In the 1980 General Election, Burgener was elected with 299,037 votes, becoming the California Congressman to receive the highest number of votes ever.
PLACENAME: Clair W. Burgener Elementary was located in Oceanside until it closed in 1992. It is now operated as the "Clair Burgener Academy" by Oceanside Unified School District.
Source: California Blue Book (1963), (1967), (1971)
Source: "Biographical Directory of the United States Congress, 1774-Present" (U.S. Library of Congress) [http://bioguide.congress.gov/]
Source: A Disorderly House: The Brown-Unruh Years in Sacramento
by James R. Mills (Heyday Books; 1987)