John Vasconcellos
Democratic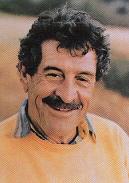 CA Blue Book 2000
Candidate Biography:
Born: May 11, 1932 in San Jose, CA
Military Service: ARMY
Died: May 24, 2014 in San Jose, CA
1960-1961: Travel Secretary, Governor Pat Brown
1968: Delegate, Democratic National Convention
1974: Candidate for Assembly Speaker (Lost; 1 to 53)
1997: Founder, California Former Legislators Alumni Group (Cal-FLAG)
2004-2014: Co-Founder, Politics of Trust network
TENURE: Vasconcellos was the second longest serving member of the California Legislature (38 years) but had the longest continuous service.
KNIGHTHOOD: Commander in the Order of Prince Henry (Portugal) in 1997.
LEGISLATION: Author of AB 236 (1977) was the first legislation to prohibit the "use of aerosol sprays to protect & restore & preserve our life-saving ozone layer."
LEGISLATION: Author of AB 3659 (1986), which created the California Task Force to Promote Self-esteem and Personal and Social Responsibility, which existed from 1986-1990.
Source: California Blue Book (1967), (1971), (1975), (2000)